Conduct a centralized audited due diligence
Save time and increase efficiency by entering information directly into the due diligence software on a standardized basis rather than having to do so multiple times and across disparate channels. Designed for allocators and funds, with AlternativeSoft you will benefit from the only solution provider that allows our platform to be deployed and hosted in any private cloud.
Explore the funds due diligence solution designed for fund managers and allocators
Identify and analyse multi-asset class portfolios of hedge funds, mutual funds, ETFs and private market funds.
Perform digital due diligence and automate your due diligence responses
Create one powerful ecosystem, consisting of all the qualitative and quantitative data you need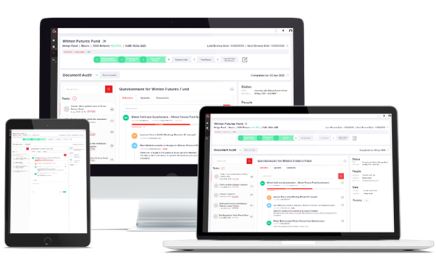 Download our Due
Diligence brochure

Funds Due Diligence Solution
Offers allocators the ability to use one tool to integrate manager data collection and due diligence documentation.

Solutions for Allocators
Define due diligence workflows and evaluate manager performance at every stage.

Solutions for Managers
Complete RFPs, RFIs, and questionnaires in one easy-to- access platform.