Due Diligence Analytics
AlternativeSoft's Due Diligence Analytics solution is an all-in-one platform that streamlines Operational Due Diligence workflows between allocators and fund managers.
Leverage AlternativeSoft's ecosystem to exchange information, documents, and questionnaires seamlessly in a centralized and auditable manner.
All-in-one platform for institutional investors.
Automate processes to minimize human error.
Multiple cloud/local deployment options.
State-of-the-art Operational Due Diligence and Investment Due Diligence analytics.
Modular design and infrastructure allows the solution to grow and evolve in accordance with user requirements in a cost-efficient manner.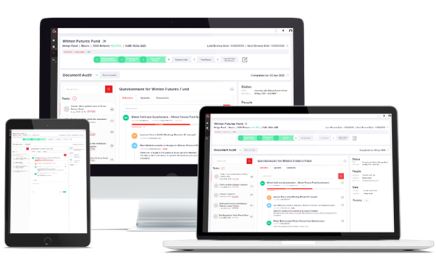 Download our
Due Diligence

Analytics

brochure

Allocator Due Diligence
Create and maintain standardized workflows adhering to compliance procedures at each stage. Enrich fund screening with Operational Due Diligence information.

Fund Due Diligence
Manage and complete due diligence questionnaires seamlessly in a secure and interactive environment.

Analytics
Incorporate quantitative and qualitative attributes for a holistic view. Analyze and unleash previously obscured information in emails and other documents.